Professional Tattoo Removal Specialist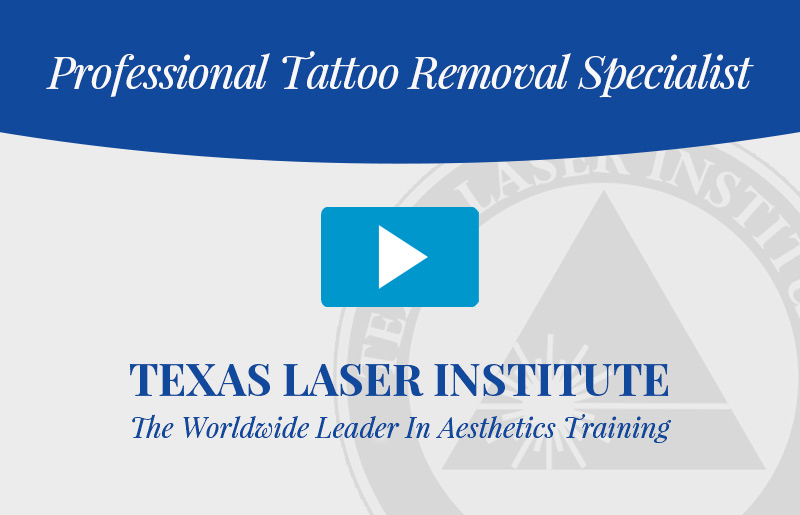 Theory, hands-on practice and training on how to run a tattoo removal business
Course Description:
The course includes discussion if theory behind laser physics, hands-on practice with Q-switched lasers and training on how to run a laser tattoo removal business. Students will also learn the latest advances in laser technology and laser practice, including teaching the very effective R20 tattoo removal method.
Following the completion of the Professional Tattoo removal Specialist program, the student will be able to apply the theory, science and practice of removing unwanted ink with light to achieve safe and effective treatments using a multitude of light based machines. Specifically, the student will be better able to understand the interaction of light within competing chromophores, conduct client consultations, determine treatments settings and protocols appropriate for removal of unwanted ink, address pre and post treatment considerations properly respond to treatment complications, as well as respond to practice setting considerations.
Objectives:
Selective Photothermolysis and its application for the treatment on unwanted ink
Achieving a balance of the thermal relaxation time of target chromophores and the surrounding skin
Client qualification and consultation
Pre and Post treatment considerations
Mitigating and addressing post treatment complications
Regulatory environment and laser safety
Best practices considerations
Business success
Course Agenda:
9:00 Introduction: Tattoo Removal History & Methods
9:15 Laser Physics & Theory of Short Pulse Lasers
9:45 Treatment Parameters: Selective Photothemolysis & Thermal Relaxation Time
10:30 Break
10:45 Patient Intake, Consultation & Post Treatment Care
11:15 Addressing Complications
12:00 Lunch
1:30 Demo/hands-on training of IPL & Tattoo Removal
5:00 Program evaluation & certificate distribution
Tuition Fee:
Tuition fee for the Tattoo Removal Specialist is $295. Tuition must be paid in full at the time of enrollment. Tuition includes all course materials, testing, and certificate of completion.
Payment Terms & Conditions:
Final balance is due at the time of enrollment. We accept Visa, Master debit and credit cards. Payments can be made online once you register.
Refund Policy:
In the case of cancellations or no show for each individual course, a non-refundable Cancellation Retainer Fee of $100 will apply.
In the case of rescheduling within 10 days of each individual course, a non-refundable Retainer Fee of $100 will apply.
At this time, the Texas Laser Institute does not offer any scholarships or financial aid. The Texas Laser Institute is certified and highly recognized by the state, Texas Department of License and Regulations. We do not provide job placements, however we offer the highest quality of education to our students.