Professional Tattoo Removal Specialist - Hybrid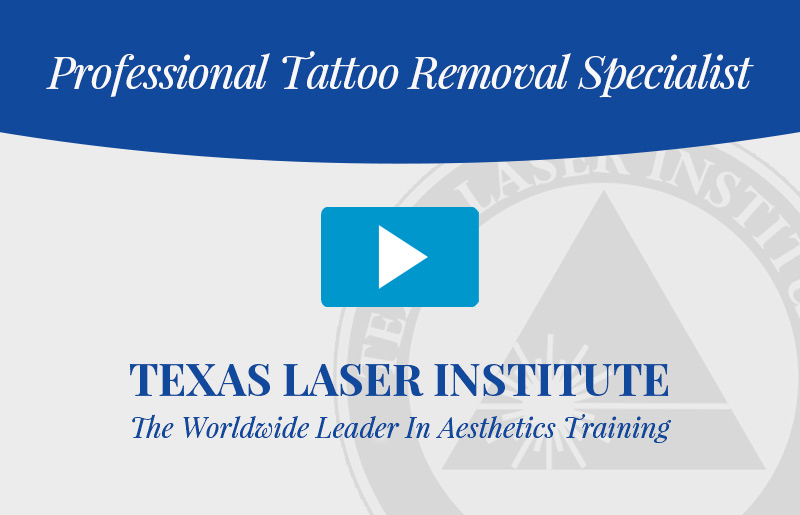 Laser Tattoo Removal Specialist Hybrid Certification Course
Course Description:
Nearly 35% of people and half of millennials in the U.S. have at least one tattoo and as many as 20% regret getting it and are unhappy with their decision. Lasers remove tattoos by breaking up the pigment colors with a high-intensity light beam. These techniques can get rid of unwanted tattoo with minimal side effects. The number of treatments will depend on age, size, color of tattoo and skin tone pigment. Becoming a Professional Tattoo Removal Specialist is booming and is a niche career in the cosmetic laser technology marketplace. Laser tattoo removal is a series of treatments and clients schedule more than 1 treatment to see results. Students have gone to work in medical spas, laser clinics and tattoo shops.
Course Description:
The Laser Tattoo Removal Hybrid course is a blended online and in-person certification program that provides both theory and practical hands-on application with Q-Switched lasers, latest advances in laser technology, including effective R20 removal method of removing unwanted ink with light to achieve safe and effective treatments using a multitude of light base machines.
Each student will enjoy extensive online videos and training, through comprehensive course materials, as well as a scheduled hands-on practice, gaining the necessary skills required.
Following the completion of the Professional Tattoo removal Specialist program, the student will be able to apply the theory, science and practice of removing unwanted ink with light to achieve safe and effective treatments using a multitude of light-based machines. Specifically, the student will be better able to understand the interaction of light within competing chromophores, conduct client consultations, determine treatments settings and protocols appropriate for removal of unwanted ink, address pre and post treatment considerations properly respond to treatment complications, as well as respond to practice setting considerations.
This Course Includes:
Online video lectures instructed by industry leading instructors.
In-person, hands-on training and practice.
All course materials in PDF format, model forms, documents and agreements.
Chapter skills assessments to check understanding of key course concepts.
Practical hands-on application using the latest, state-of-the art technology in tattoo removal.
A presentation on medical spa operations, with insights on effective methods for building a successful Tattoo Removal practice.
A certificate of completion as a Professional Laser Tattoo Removal Specialist from the Texas Laser Institute will be awarded to each individual with the completion of necessary course hours.
Objectives:
Selective Photothermolysis and its application for the treatment on unwanted ink
Achieving a balance of the thermal relaxation time of target chromophores and the surrounding skin
Client qualification and consultation
Pre and Post treatment considerations
Mitigating and addressing post treatment complications
Regulatory environment and laser safety
Best practices considerations
Business success
Online Video Course:
Once enrolled, you can start watching the online videos anytime at your convenience in the comfort of your home.
Online videos are available 24/7.
Each course section is reviewed by power point presentation with corresponding instructional video.
For the best viewing experience, we suggest using a laptop or desktop.
4 Hour Hands-On:
Once you complete the Online Video Course portion, you must schedule a 4 Hour Hands-on, in-person training by calling us at 832-767-0977 or email us at enroll@texaslasers.com.
The hands-on may be scheduled at either 8:30am-12:30pm or 1:30pm-5:30pm. Students are encouraged to ask questions and review class materials to gain additional mastery of the course.
See available hands-on dates (top right corner of this page).


Important Information:
You must complete the Online Video Course before scheduling the 4 Hour Hands-On. A certificate of completion will be distributed on your scheduled in-person, hands-on training day.
Admission Requirements:
The minimum age for admissions is at least 18 years of age at the date of application.
Students must have attained a high school diploma, GED or equivalent.
Proficiency in English reading & writing.
Tuition Fee & Enrollment:
Tuition fee for the Professional Tattoo Removal Specialist is $295.
Once the full tuition fee is paid, the course will be added to your student portal for instant online access, 24/7.


Payment Terms & Conditions:
Final balance is due at the time of enrollment. Payments can be made online once you register. We accept Visa, Master debit and credit cards.
Refund Policy:
All Hybrid online courses are non-refundable once the student is granted access to the online materials.

At this time, the Texas Laser Institute does not offer any scholarships or financial aid. The Texas Laser Institute is certified and highly recognized by the state, Texas Department of License and Regulations. We do not provide job placements; however, we offer the highest quality of education to our students.


How To Enroll:
Click HERE to register and enroll online
Go to "Class Enrollment"
Choose the course, date and city
Make payment
Once enrolled, please call us at 832-767-0977 or email us at enroll@texaslasers.com to schedule your course hands-on arrival time.