IPL Photofacial & Skin Rejuvenation Course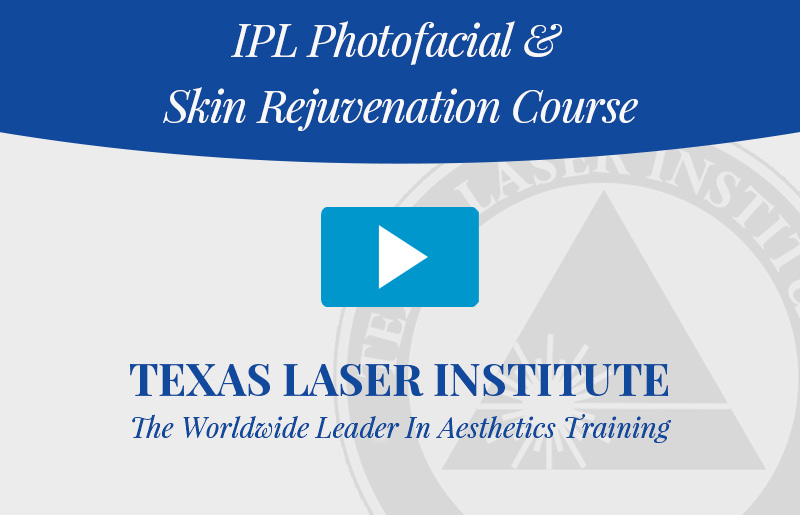 Course Description:
Professional IPL Photofacial & Skin Rejuvenation Offers a comprehensive seminar, with both theory and extensive practical hands-on application. At the completion of the program, an examination will be administered. There are no special requirements for completion of the course other than to complete at least 90% of the classroom hours, take active part in class discussion and the hands-on practicum.
A certificate from the Texas Laser Institute, LLC as a Professional IPL Photofacial & Skin Rejuvenation Specialist will be awarded to each individual with the completion of necessary course hours.
Objectives:
Selective Photothermolysis and its application for IPL Photofacial & Skin rejuvenation treatments
Achieving a balance of the thermal relaxation time of target chromophores and the surrounding skin
Client qualification and consultation
Pre and post treatment considerations
Mitigating and addressing post treatment complications
Regulatory environment and safety
Practice considerations
Course Agenda:
9:00 Introduction to IPL Photofacials
9:15 Theory of Intense Pulsed Light
9:30 Client selection – Target Chromophores
9:45 Thermal Relaxation Time
10:00 Break
10:15 Side effects & complications
11:45 Conclusion
12:00 Lunch provided with topic discussion: "Laser Safety & Best Practices"
1:00 Demo/hands-on practice
5:00 Program evaluation & certificate distribution
Seminar Tuition:
Tuition for the IPL Photofacial & Skin Rejuvenation Specialist is $295. Tuition must be paid in full at the time of enrollment. Tuition includes all course materials, testing, and certificate of completion.