Body Contouring & Skin Tightening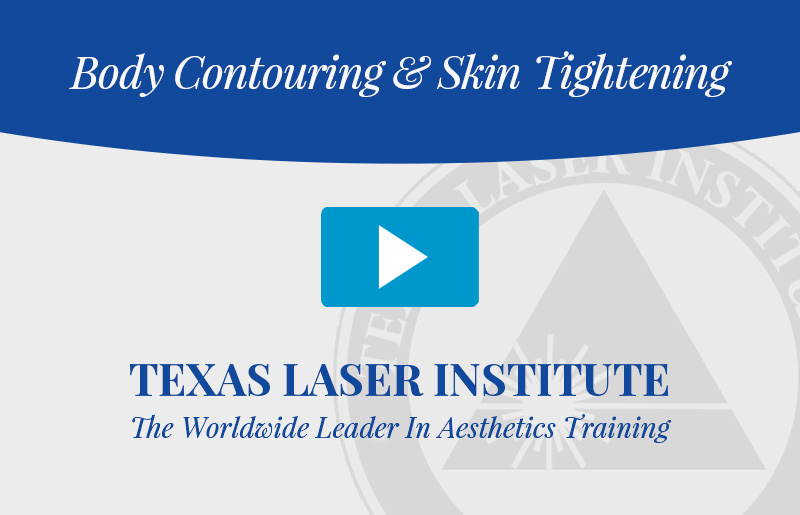 Course Description:
The one-day Body Contouring and Skin Tightening Course includes extensive theory and practical hands-on application using the latest technology in non invasive radio frequency, LED, and Ultrasound modalities.
A certificate from the Texas Laser Institute, LLC as a Body Contouring and Skin Tightening Specialist will be awarded to each individual with the completion of necessary course hours.
Objectives:
Apply the theory, science, and practice of body contouring
and skin tightening modalities
Client qualification and consultation
Pre and post treatment considerations
Mitigating and addressing post-treatment complications
Regulatory environment and safety
Best Practices Considerations
Course Agenda:
9:00 Theory in Body Contouring and Skin Tightening Modalities
9:45 Client Selection
10:00 Break
10:15 Indications and Contraindications
10:45 Patient preparation & post treatment
11:15 Side effects & Complications
11:45 Conclusion
12:00 Lunch provided with topic discussion
1:00 Demo/hands-on training of body contouring and skin tightening using RF modalities
5:00 Program evaluation & certificate distribution
Seminar Tuition:
Tuition for the Body Contour & Skin Tightening Specialist is $295. Tuition must be paid in full at the time of enrollment. Tuition includes all course materials, testing, and certificate of completion.
Prerequisites:
In order to enroll in the Body Contouring and Skin Tightening Seminar, the student must maintain current licensure as a laser hair removal technician, an aesthetician, nurse, or physician.