Microneedling & Microdermabrasion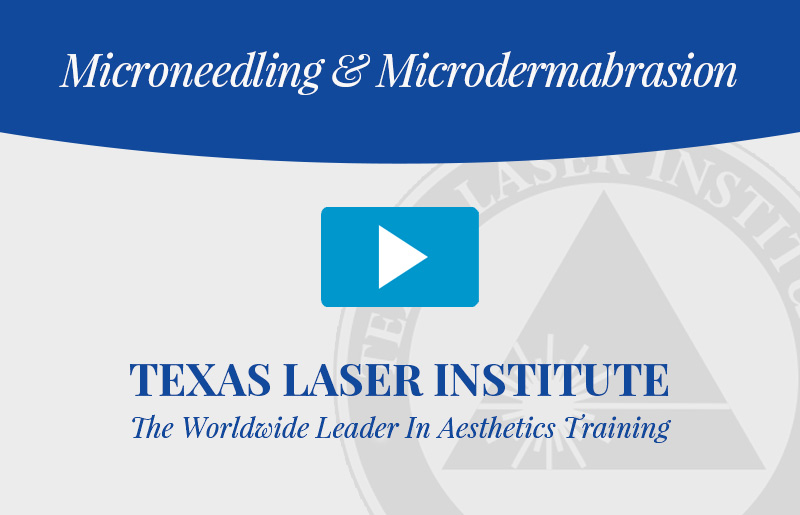 Course Description:
The Microdermabrasion and Micro-Needling course offers a comprehensive seminar, with both theory and extensive practical hands-on application. Micro Needling produces ablative skin resurfacing like results, but without the use of aggressive lasers. TLI developed protocols will be introduced with special attention placed upon a combined treatment consisting of micro-needling coupled with a diamond-tip microdermabrasion treatment. A certificate from the Texas Laser Institute, LLC as a Professional Microdermabrasion and Micro Needling Specialist will be awarded to each individual with the completion of necessary course hours.
Objectives:
Analysis of mechanical mediums using a multitude of devices and compounds and its application for exfoliation treatments
Client Qualification and Consultation
Pre and Post Treatment Considerations
Mitigating and Addressing Post Treatment Complications
Regulatory Environment and Safety
Best Practices Considerations
Course Agenda:
9:00 Theory in Microdermabrasion and Micro-Needling
9:15 Client Selection
9:45 Treatment Guidelines
10:00 Break
10:15 Indications and Contraindications
10:45 Patient Preparation & Post Treatment
11:15 Side Effects & Complications
11:45 Conclusion
12:00 Lunch provided with topic discussion: "Advanced applications using Micro-Needling"
1:00 Demo/hands-on training of Microdermabrasion and Micro-Needling
5:00 Program Evaluation & Certificate Distribution
Seminar Tuition:
Tuition for the Microneedling & Microdermabrasion Specialist is $295. Tuition must be paid in full at the time of enrollment. Tuition includes all course materials, testing, and certificate of completion.