Microneedling & Microdermabrasion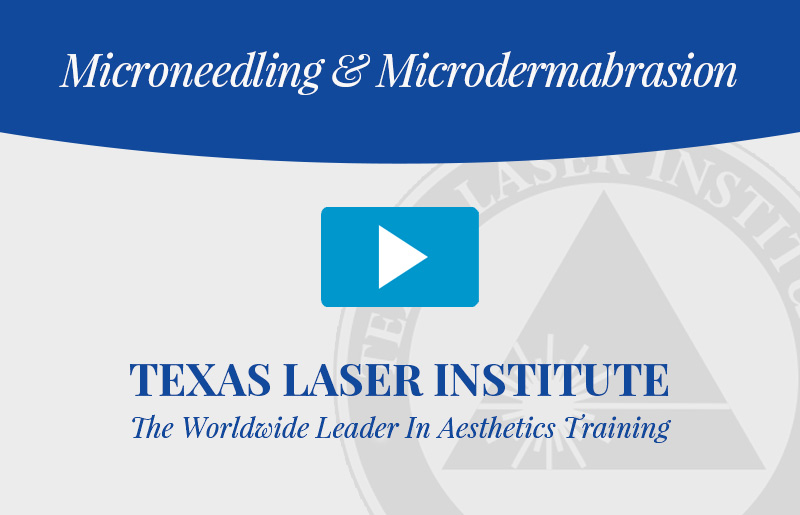 Course Description:
The Microneedling and Microdermabrasion course offers a comprehensive seminar, with both theory and extensive practical hands-on application. Microneedling produces ablative skin resurfacing like results, but without the use of aggressive lasers. TLI developed protocols will be introduced with special attention placed upon a combined treatment consisting of microneedling coupled with a diamond-tip microdermabrasion treatment. A certificate from the Texas Laser Institute, LLC as a Professional Microneedling and Microdermabrasion Specialist will be awarded to each individual with the completion of necessary course hours.
Objectives:
Analysis of mechanical mediums using a multitude of devices and compounds and its application for exfoliation treatments
Client Qualification and Consultation
Pre and Post Treatment Considerations
Mitigating and Addressing Post Treatment Complications
Regulatory Environment and Safety
Best Practices Considerations
Course Agenda:
9:00 Theory in Microdermabrasion and Microneedling
9:15 Client Selection
9:45 Treatment Guidelines
10:00 Break
10:15 Indications and Contraindications
10:45 Patient Preparation & Post Treatment
11:15 Side Effects & Complications
11:45 Conclusion
12:00 Lunch
1:00 Demo/hands-on training of Microdermabrasion and Microneedling
5:00 Program Evaluation & Certificate Distribution
Prerequisite:
The minimum age for admissions is at least 18 years of age at the date of application.
Students must have attained a high school diploma, GED or equivalent.
Proficiency in English reading & writing.
You do not need to be an aesthetician to take this course, however please note that to be able to perform actual Microneedling procedures on clients you must have a valid certification (a certification from an institute like TLI) and/or work under a physician's delegation. Your instructor will further guide you on the rules and regulations during your class.
Tuition Fee:
Tuition fee for the Microneedling & Microdermabrasion Specialist is $295. Tuition must be paid in full at the time of enrollment. Tuition includes all course materials, hands-on training, and certificate of completion from the Texas Laser Institute. At this time, this course does not include a personal Microneedling pen or Microdermabrasion machine, however you will be able to practice hands-on with our professional, state-of-the-art technology equipment at our training facility. Your instructor will guide you on where to purchase devices.
Payment Terms & Conditions:
Final balance is due at the time of enrollment. We accept Visa, Master debit and credit cards. Payments can be made online once you register.
Refund Policy:
In the case of cancellations or no show for each individual course, a non-refundable Cancellation Retainer Fee of $100 will apply.
In the case of rescheduling within 10 days of each individual course, a non-refundable Retainer Fee of $100 will apply.
At this time, the Texas Laser Institute does not offer any scholarships or financial aid. The Texas Laser Institute is certified and highly recognized by the state, Texas Department of License and Regulations. We do not provide job placements, however we offer the highest quality of education to our students.