Laser Safety Officer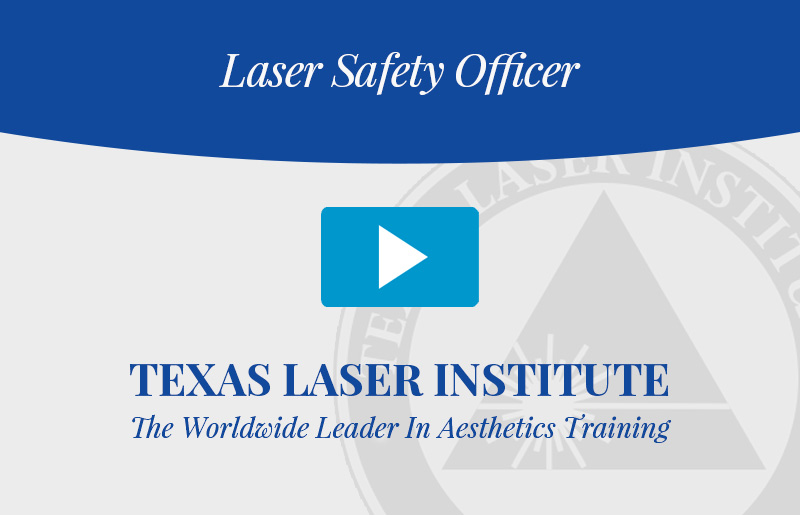 About This Course:
Training as a Laser Safety Officer "LSO" is a two (2) hour seminar, with both theory and extensive practical knowledge for the safe operation of lasers and IPL machines. At the completion of the program, an examination will be administered. There are no special requirements for completion of the course other than to complete at least 90% of the classroom hours, take active part in class discussion and the hands-on practicum, as well as to score a passing mark on the final examination of at least 80%. A certificate from the Texas Laser Institute, LLC as a Laser Safety Officer will be awarded to each individual with the completion of necessary course hours and a passing score on the examination.
Seminar Objective:
Following the completion of the training as a Laser Safety Officer "LSO", the student will be able to apply the theory, science and practice of safely operating light based devices within the aesthetics industry. Specifically, the student will be better able to understand the unique hazards lasers and IPL machines can expose to the skin and to the eyes. Additionally, students will be able to identify electrical, chemical, and fire hazards of light based aesthetic platforms. Practice setting considerations are also discussed, and students shall be able to write the policies and procedures manual for their aesthetics clinic.
Admission Requirements:
Minimum age for admissions is at least 18 years of age at the date of application.
Proficiency in English or in Spanish, depending upon the language in which the course will be instructed.
Students must have previous training with tattoos, laser hair removal, aesthetics, and/or the physiology of the skin.
Alternatively, the student may demonstrate experience within non-ablative aesthetics, having received training in a related field, or maintain experience within the medical spa industry.
Main Skills to Be Learned:
National standards for the safe use of class 3b and class IV FDA approved medical devices.
Mitigating and addressing the unique hazards of light based aesthetics systems
Demarcation of the nominal hazard zone, with safety considerations
Practice considerations – implementation of a laser safety program
Seminar Tuition:
For 2014, tuition for the two (2) hour training seminar as a Laser Safety Officer is $150.00. Students may receive discounted tuition when in attendance with other students from the same clinic. Tuition must be paid in full at the first day of class. Tuition includes all course materials, testing, and certificate of completion.