Advanced Chemical Peel Practicum™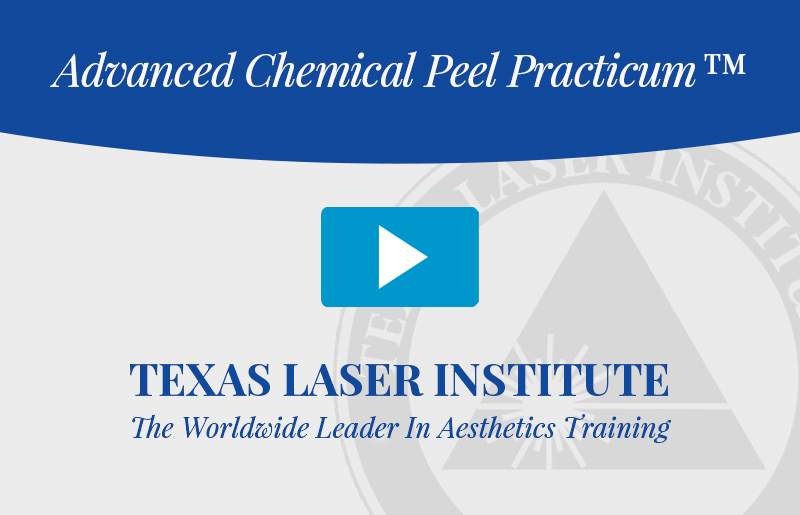 Supervise 100 Treatments
About This Course:
Students enjoy the option to supervise their 100 treatments at TLI's facility. Normally accomplished in under 6 hours, the supervised 100 treatments are observed by a Registered Professional Laser Hair Removal Technician. By supervising the 100 treatments at our institute, the student is able to elevate his or her registration status to that of a Registered Certified Laser Hair Removal Senior Technician with DSHS.
Admission Requirements:
Must be a registered Laser Hair Removal Technician with DSHS.
Seminar Tuition:
Cost to Supervise 100 treatments within this seminar is $250.
CLHR 101 provides training in both theory and in practice to individuals seeking to obtain training as a Laser Hair Removal Technician. This seminar is approved by the Texas Department of State Health Services and satisfies the required training to perform laser hair removal treatments as a Certified Laser Hair Removal Technician, Apprentice-In-Training throughout the state of Texas. CLHR 101 is a 40 hour seminar, with both theory and practical hands-on application. At the completion of the program, an examination will be administered. There are no special requirements for completion of the course other than to complete at least 90% of the classroom hours, take active part in class discussion and the hands-on practicum, as well as to score a passing mark on the final examination of at least 70%. A certificate of completion from the Texas Laser Institute as a Laser Hair Removal Technician will be awarded to each individual with the completion of necessary course hours and a passing score on the examination.
Objectives:
Apply the theory, science and practice of laser hair removal
Understand the interaction of light within competing chromophores
Conduct client consultations
Determine treatments settings and protocols appropriate for laser hair removal
Address treatment complications
Perform CPR
Fulfill the responsibilities as a Laser Safety Officer
Respond to practice setting considerations
Regulatory considerations
Best Business considerations